Mining is paramount to Tasmania economy accounting for 60% of export revenues.
Tasmania possesses a rich history of thriving mining sectors, leading to the accumulation of substantial mineral wealth. Presently, the collective mining and mineral-processing industries account for over 60 percent of the state's export revenues.
Being one of the most mineral-rich regions globally, Tasmania showcases extraordinary geological diversity and an abundance of valuable, high-grade mineral reserves that are conveniently located near transportation and infrastructure networks. Noteworthy commodities extracted in Tasmania encompass nickel, tungsten, copper, gold, lead, iron, silver, tin, zinc, coal, and ultra-high purity silica flour. Furthermore, Tasmania's distinction as entirely self-reliant in renewable energy generation provides a pathway for businesses to achieve their sustainability objectives by operating in the region.
Countless untapped possibilities persist for the exploration, extraction, and subsequent processing of Tasmania's mineral assets. Encouraging legislation supports both exploration and development endeavors in the area.
Current Operating Assets
In Tasmania, there are three prominent active mines, comprising Rosebery, a long-standing producer of zinc, lead, gold, copper, and silver. Savage River is another, primarily dealing with magnetite, which is processed into iron ore pellets at Port Latta. The Renison Joint Venture is a significant contributor to tin production. Additionally, several potential projects are currently at different stages of development.
The key operational mines in Tasmania encompass:
Rosebery Mine: Focused on mining silver, lead, and zinc.
Renison Mine: Primarily engaged in tin mining.
Savage River Mine: Specializing in magnetite extraction for iron ore.
Henty Mine: Concentrating on gold mining.
Cornwall Coal: Active in coal mining in the northeastern region of Tasmania.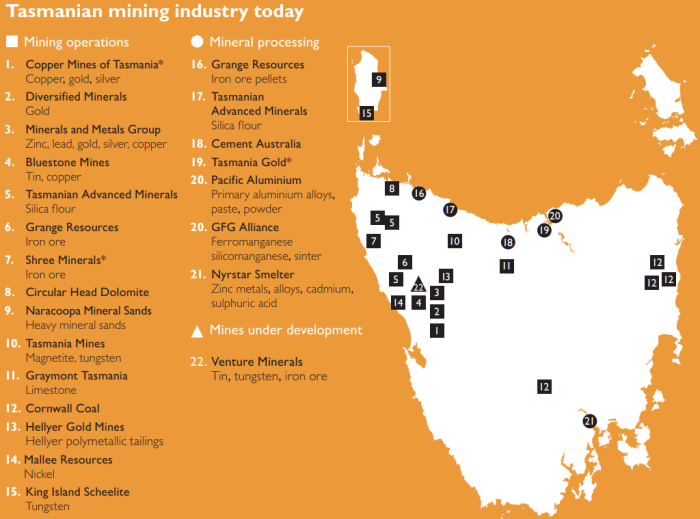 Some of the proposed ventures involve:
Avebury Mine: Exploring nickel mining in Zeehan.
Mount Lindsay: Concentrating on iron and tin-tungsten.
King Island: Focused on scheelite mining.
Mining leases in Tasmania are granted for a term commensurate with the life of the mining project. The term of a mine lease may be renewed at the discretion of the Minister if the holder is able to show grounds for a renewal of term.
Mine leases may be granted for one or more of the following mineral categories:
Category 1: metallic minerals and atomic substances;
Category 2: coal, peat, lignite, oil shale and coal seam gas;
Category 3: rock, stone, gravel, sand and clay used in construction, bricks and ceramics;
Category 5: industrial minerals, precious stones, semi-precious stones;
Infrastructure
It's important to be able to explore and mine - but getting end product to international clients is crucial. Tasmania has fantastic infrastructure for just that.
Mining Leases In Tasmania
Mining Lease Applicants must supply a security deposit to cover the cost of rehabilitation or environmental liability arising from the proposed operation. The amount required is determined by MRT and reflects the cost to government for carrying out rehabilitation in the event of default by the lessee. The amount is determined according to proposed stages of development and rehabilitation outlined in the mining plan.
The Minister may only grant an application for a lease if satisfied that the applicant:
has demonstrated that there is sufficient quantity of minerals to justify mining;
intends to mine;
intends to comply with the Mineral Resources Development Act 1995;
has an appropriate mining plan;
is likely to have sufficient financial and technical resources to carry out the mining plan;
if the application is in respect of private land, has entered into a compensation agreement with the owner or
occupier of the land;
has provided evidence of current public liability insurance; and
has provided a security deposit.
Lessees are required to advise MRT of accurate production figures and pay royalties on a quarterly basis.
Sourced from https://www.mrt.tas.gov.au/